A safe place for your kids to be inspired to follow jesus!
All of our workers and teachers undergo a thorough background check and approval process. We have extensive training and a policy manual to help keep your kiddos safe!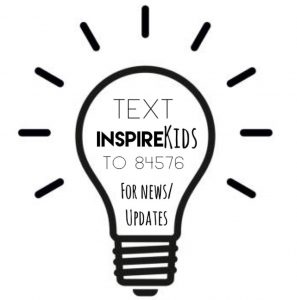 1st Grade - 5th Grade
We offer excellent ministry in Inspire Kids!  They will enjoy great music, fun games & projects & build lasting friendships. We have a great team of leaders dedicated to making sure your child has a fun & meaningful time at Inspire Church. Inspire Kids Ministry Check-in is located across the breezeway in our main hallway.
Early Childhood
We have a wonderful nursery for children birth through 18 months, Inspire Toddlers for 18 months to 4 years old and our Inspire Juniors class for children 4-Kinder.  All classes are open during regular services times on Sundays.
All of our workers, teachers and volunteers undergo background screening and personal interviews. Security is a high priority for our Children's Ministries.
The church nursery is located next to the Main Auditorium.  The Inspire Juniors Class is located in the Inspire Juniors room, across the breezeway and adjacent to the church office.
Please Note: All of our Campuses have Inspire Kids Ministry during regular Sunday Service Times.